Today I want to share with you how we used the 12-minute metabolic protocol below to help us look better, feel better, have more energy, and achieve leaner and healthier bodies.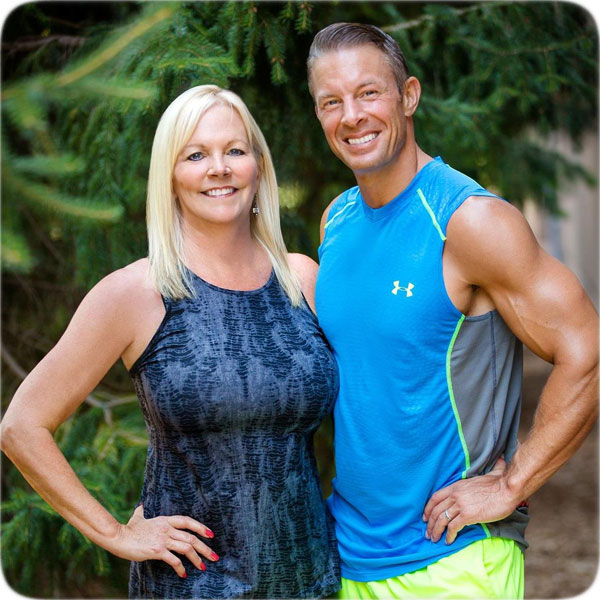 Over the last 10 years I've developed an evidence-based unique way of moving that's specifically designed to help busy people like you…
BOOST your metabolism [1]

Optimize Growth Hormone levels[2]

Improve heart strength, while lowering insulin resistance[3]

Lose body fat FASTER[1]
My 58-Year Old Wife Karen and I Used The 12-Minute Metabolic Protocols Inside The Digital Guides Below To Achieve A Flatter, Firmer Belly...
WITHOUT Long, Boring Marathon Style Cardio Workouts or Needing a Gym Membership...

It Only Takes 12 Minutes & Can Be Done Anywhere

WITHOUT Strict, Complicated Crash Dieting, Calorie Counting, or Cutting Carbs...

We've Discovered How It's Possible To Eat LOTS Of Carbs WITHOUT Gaining Belly Fat

WITHOUT Silly Ab Gadgets That Can Harm Your Spine or Another Knee-Jarring Workout DVD Designed For Younger People

The Metabolic Movements Inside The Rapid Fat Loss System Below Are Specifically Designed To Optimize Hormones For People OVER 35 Years Old To Lose Stubborn Fat FASTER
This innovative rapid fat loss system only takes 12 minutes per day and it doesn't require ANY fancy equipment or a gym membership, so it can be done anytime, anywhere using just your body weight so that losing body fat isn't so hard and complicated.
I call it Metabolic Zone Training and it uses a strategic combination of movement patterns, rest periods, and intensity levels designed to help people in their 40s, 50s, and 60s optimize their hormones so they can lose belly fat faster, while fighting against the nagging side effects of getting older.
After 18 years of being a fitness expert I've NEVER heard a personal trainer talk about this unique way of moving.
It's NOT interval training… It's NOT another 60-90 minute knee-jarring DVD workout designed for people in their 20s and 30s… It's NOT some new "hyped" up exercise gadget, and it's NOT another "magic" pill.
And it's completely different than today's most popular workouts.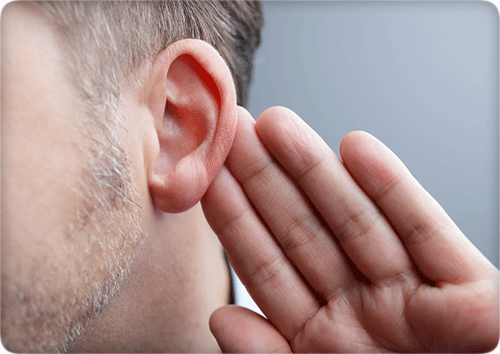 ATTENTION: The rapid fat loss blueprint you'll learn about below was SPECIFICALLY designed for men and women OVER 40, 50, and 60 years old who want to lose belly fat QUICKLY, safely, and permanently. This unique way of moving is NOT intended for younger people.
For men and women who are in their 40s, 50s, and 60s wanting to make weight loss more effortless, this information is vitally important so please make sure you read this special report in its entirety if you're over 35 years old.
You'll also discover how my 58-Year Old wife Karen used this 12-minute metabolic movement pattern to flatten her belly AFTER a battle with cancer led to early onset menopause.
But first, there's something else most people who are struggling to lose belly fat do NOT know...
Day after day, week after week, we see it more and more.
Research across the board[4] indicates that excessive amounts of regular exercise, like cardio, works completely AGAINST the metabolism.
Just look at the evidence below…
Did You Know?


Research From 4 Published Scientific Studies[5-8] Show "Regular" Exercise Can Cause Metabolic Damage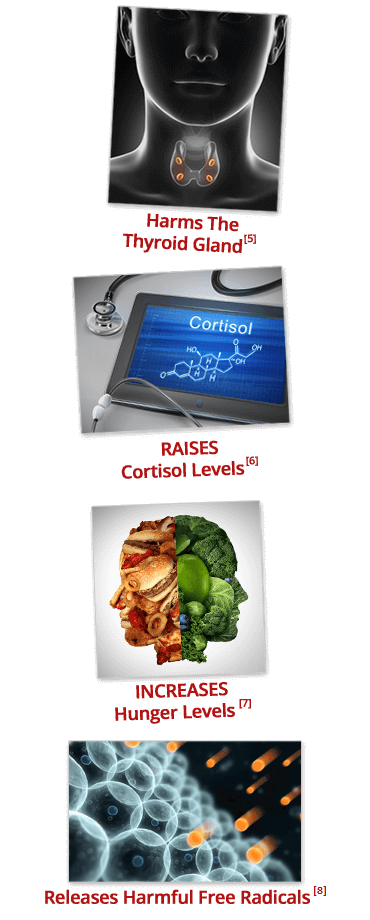 1) Regular Exercise Can Harm The Thyroid Gland, Which Is Responsible For Regulating The Metabolism
A study published in the prestigious European Journal of Applied Physiology concluded that regular prolonged exercise negatively affects the thyroid gland, which is responsible for regulating the body's metabolic rate, as well as heart and digestive function, muscle control, brain development and bone maintenance.[5]
2) Regular Exercise INCREASES Cortisol (also known as the "belly fat hormone")
A 2012 published study shows that regular exercise increases the stress hormone Cortisol, which is associated with heart disease, cancer and visceral belly fat (considered the most dangerous kinds kind of body fat).[6]
3) Too Much Regular Exercise INCREASES Hunger Levels
A 2012 published study shows that people who perform too much cardio end up eating 100 calories MORE than they just burned off, making it very difficult to keep your body in a fat burning calorie deficit.[7]
4) Too Much Regular Exercise Increases Free Radicals, Which Are Linked To Inflammation & Other Deadly Diseases
A 2010 published study shows that regular exercise can increase free radicals… the molecules that attack cells and play a major role in development of chronic and degenerative illnesses.[8]
As you can clearly see, the published science research confirms it.
Too much regular exercise can cause metabolic damage.[5-8] Fortunately, it doesn't have to be this way for those who have access to the blueprint I've created inside the system below.
Keep reading to discover why men and women over 40 years old should move differently than younger people in order to quickly lose belly fat.
If you're still wondering who this is for, just ask my beautiful wife Karen… she's been through it ALL…
How My 58 Year Old Wife's Battle With Cancer and Early Onset Menopause Led To The Discovery Of This 12 Minute Breakthrough
It all started when I met my wife Karen in 2006.
Even though we were just friends at the time, we were both so passionate about helping others transform their bodies and lives that we teamed up and opened a personal training studio in Ann Arbor, Michigan.
Within 12 months we were running a successful franchise helping hundreds of local residents transform their bodies and lives. We fell in love. Both of us were lean, healthy, and in great shape. Life was good.
Then it happened...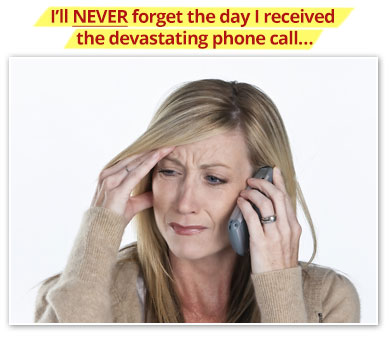 The phone rang after Karen's doctor's appointment.
"Honey!" She screeched at the top of her lungs. "I have cancer!"
From that day on EVERYTHING changed.
Harmful chemo and radiation treatments severely damaged her ovaries and FORCED her body into early onset menopause.
It was truly the most difficult and emotional time of our lives because her life was in jeopardy! I noticed it the first day she was administered chemo and it broke my heart watching her skin turn yellow within minutes after they started the treatments.
The cancer treatments slowly poisoned her body

Her hormones were compromised and suppressed

Her metabolism was damaged
Her thyroid was NON-responsive

I saw her body aging FASTER than ever

She gained over 25 pounds (mostly in her upper belly region), so her self esteem and confidence PLUMMETED
Even though we were lucky enough to catch her cancer soon enough to save her… after 6 weeks of radiation and chemo treatments her metabolism was destroyed.
And no matter HOW hard Karen tried to lose belly fat afterwards, NOTHING changed. Was it too much stress? Was it too much exercise? Was it the chemo and radiation? Was it bad genes? I don't know.
But the one thing I DO know for SURE is that more exercise didn't help… it only made matters WORSE.
She tried cookie-cutter diets. She tried doing LONGER cardio sessions. She even resorted to using synthetic hormones…
Then one day she finally exploded.
I remember it like it was yesterday... we were driving home from dinner one night after a few glasses of wine when Karen lost it…
"I'm so sick of working my butt off, and not getting any results! I feel so fat and bloated every morning when I wake up and you'll never understand because you're a guy—you have it so much easier than we do!"
She blurted out as the tears came rolling down her eyes.
And she was RIGHT. Guys DO have it easier than women, but once we hit 35 years old we have our own hormonal challenges. However…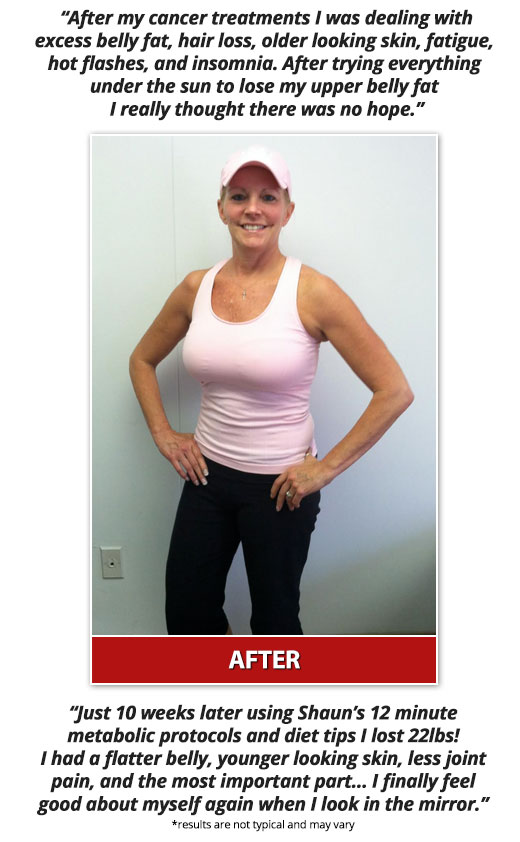 There are specific ways of moving for BOTH men and women inside the system I've created below that helps combat this problem.
From that day forward, I VOWED to do WHATEVER it took to make sure she NEVER felt this way again… so I went on a quest to level the playing field and make her body respond as easily as younger men and women in their 20s and 30s.
And that's when I had a HUGE epiphany about how hormones decline after 35 years old, so I took a leap of faith and decided to do something I've never done before…
I gave Karen the exact 12-minute protocol that I used as a fitness model to lose my last 5 to 10 pounds of "stubborn" fat every time I did a photo shoot from the time I was 37 years old until I was 44 years old (see pics below).
At first, I was VERY reluctant for her to use this metabolic movement pattern because it's typically reserved for bodybuilders, physique athletes, and Hollywood celebs who want to quickly shrink their waistline over 1 inch per day before appearing on stage or in front of the camera.
But at this point, I was desperate, so I figured I had nothing to lose.

To my pleasant surprise, every day Karen used this strategy I could visually see her belly getting flatter and firmer…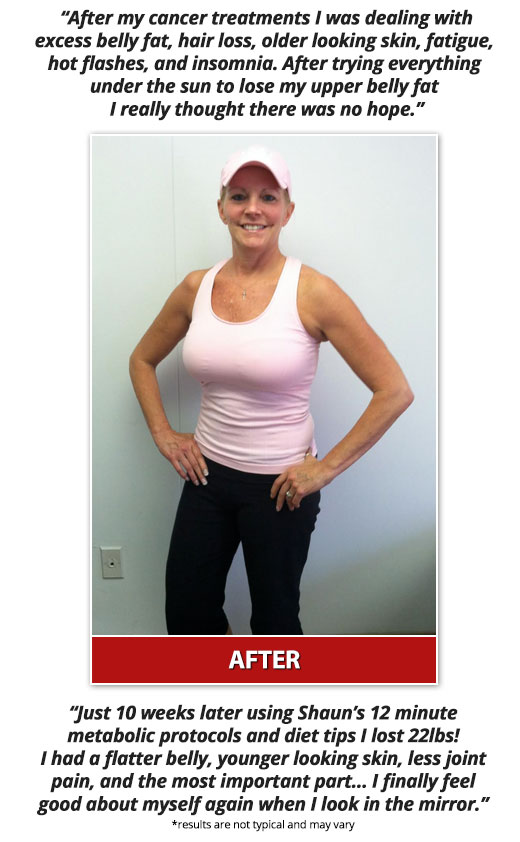 Fast Forward 10 Weeks Later And
Just Look At What Happened!
That's when I realized this 12 minute metabolic protocol could just be the MISSING LINK for people in their 40s, 50s, and 60s to quickly lose belly fat…
More details on how it all works inside the system I've created below.
I'm Shaun Hadsall, a proud Grandfather, Best-Selling Author, and Stubborn Fat Expert whose mission is to help thousands of people across the globe learn the REAL truth about losing stubborn fat with my fat loss products and services.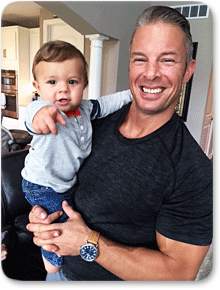 Using this 12 minute metabolic movement pattern has been my secret weapon to maintain the energy and vitality it takes to keep up with my grandson Owen.
When I was just 28 years old I used this 12 minute movement pattern to help me take my body-fat from nearly 20% belly fat to 5% body-fat in only 12 weeks—and had six pack abs for the first time in my life.
I went on to place 1st Runner-Up Grand Champion in the world's largest body transformation contest, called Body-for-LIFE™, with over 122,000 contestants.
It was through this life-changing journey that I discovered the movement patterns, rest periods, and intensity levels necessary to optimize hormones for faster fat loss.
As you can see from my pictures below, I've used this 12 minute metabolic protocol to KEEP my six pack abs year after year after year.
I'm not sharing this with you to impress you, but to impress UPON you it works!
AFTER Discovering Metabolic Zone Training


* results are not typical and may vary
Now you can see why I have such a deep passion for giving people (who are over 40 just like Karen and me) direct access to the same 12 minute solution I've used to maintain my 6-pack abs for YEARS.
I finally nailed down a weight loss solution that works for BOTH men and women in their 40s, 50s, and 60s to quickly lose belly fat in only 12 minutes per day.
Bottom Line:
My wife Karen is 58… and I'm 47—and we BOTH use this 12 minute movement pattern week after week to look and feel YEARS younger than our real age! If we can do it in just 12 minutes per day, ANYBODY who is over 40 and willing to work for it can!
* results are not typical and may vary
What If The Side Effects Of Getting Older Could Be Delayed For Months… Maybe Even Years?
Thank goodness most people don't have to go through what my wife Karen did, but I've seen the same type of thing happen with my private paying clients here in Michigan.
I notice a drastic hormonal shift that takes place after people turn 35 years old.
They complain to us that their body fat increases RAPIDLY. We notice their aerobic capacity has DECREASED dramatically. Most of them tell us their libido decreases. They also notice a loss of strength and muscle mass.
That's why it's so important that people in their 40s, 50s, and 60s move differently than younger people by using scientifically-backed movements that are designed for their current hormonal condition.[9]
These are movements that are so unique, they're specifically designed to optimize hormones that help make losing belly fat much easier than traditional exercise methods… [2]
Here's How This 12 Minute "Movement Pattern" Helps People From All Walks Of Life Increase Fat Loss[9]
Now you can probably see why Karen and I are so excited to introduce you to…
The 12 Minute Metabolic Movement Pattern Specifically Designed For The Hormonal Condition of Men & Women Over 40 Who Are Determined To Get A Flatter Belly...
The OVER 40 Ab Solution is specifically created for EVERY person in their 40s, 50s, and 60s who is determined to flatten their belly once and for all.
Keep reading below and you'll learn all about my system that shows you how to enter the 3 Metabolic Zones that are strategically designed to "optimize" hormones and help people over 40 quickly lose weight in only 12 minutes per day… [1,2,7]
It's as Easy as 1—2—3!
It's simple as entering one zone at a time in order to optimize hormones for quicker, easier fat loss.
Each zone is strategically designed for the current hormonal state of people in their 40s, 50s, and 60s so that they "feed" off each other…
All 3 zones are combined together to work in a strategic sequence to get maximum results in minimal time.
Zone 3 below is the most important because several studies show that it stops your body from re-storing stubborn fat cells.[15-17]

ZONE #1: PRIME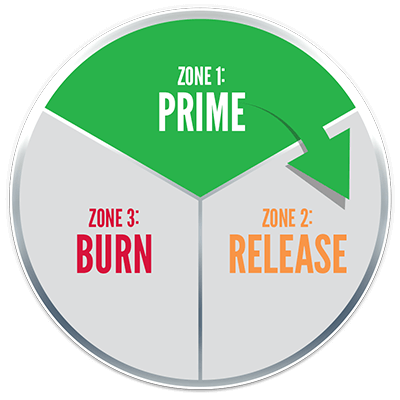 "Primes" Hormones & Stabilizes Insulin, Making It EASIER To Lose Weight
The first zone is designed to "prime" the metabolism and hormones, making it easier to access stubborn fat cells.[18]
There are a few SUPER simple "primers" Karen and I use that fitness professionals and personal trainers NEVER seem to talk about that put our bodies in the PERFECT hormonal state for the quickest and easiest fat loss.
Inside the OVER 40 Ab-Solution we'll share three simple OVER 40 fat loss "primers" that are the GATEWAY to access stubborn fat cells faster.
PRIMER #1: A simple pre-exercise ritual that FLATLINES the body's storage hormone—insulin—making it easier to access stubborn fat cells.[19]
PRIMER #2: A rarely talked about way to eat before exercise that allows people in their 40s, 50, and 60s to start burning belly fat MUCH faster.[20]
This primer is rarely talked about because most systems don't address HORMONES, which could be the most important piece of the fat loss puzzle.
PRIMER #3: A simple post-exercise rule that has been scientifically documented [1,20,21] to naturally maximize hormones for accelerated calorie burning after exercise. And even though this technique literally requires ZERO effort, it is virtually unheard of.
We'll also share the ONE thing that MUST be avoided before moving or exercising that makes it MUCH easier for the body to access stubborn fat cells.[22]
EACH primer above is designed to create the perfect fat burning environment so that Zone 2 can be used to "release" the fight or flight hormones responsible for improving fatty acid oxidation (i.e. fat burning)…[1]

ZONE #2: RELEASE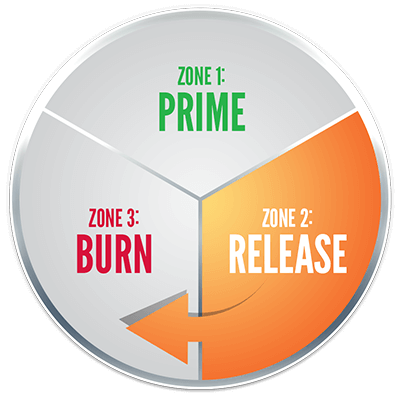 Releases Hormones That Help Shrink Fat Cells & Boost Metabolic Rate For Up To 48 Hours Afterwards[12]
Zone 2 uses three specific movements strategically designed for people over 40 to optimize and release hormones necessary to help shrink fat cells and increase metabolic rate…[2]
MOVEMENT #1: A simple 20-second movement pattern that releases adrenaline, which then converts to hormones that increase fat loss.[1]
People in their 20s and 30s really don't need this to lose fat because they're younger… but for people over 40, this 20-second metabolic movement could be the MISSING LINK to faster fat loss… it has also been shown to boost metabolic rate for up to 48 hours AFTER using it.[2]
MOVEMENT #2: A simple 30-second movement that increases human growth hormone dramatically.[15] Every time Karen and I use this 30 second protocol it puts a spring in our step and increases our all day energy.
MOVEMENT #3: A 60-second metabolic movement specifically designed to drain the body of stored energy (glycogen) to help increase calories burned for faster fat loss.
Although it's typically unheard of—using this movement can help people over 40 avoid weight loss plateaus.
Remember, people over 40 should exercise LESS. By avoiding regular exercise and replacing it with these 3 simple movement patterns, it's possible to reawaken declining hormones in as little as 12 minutes per day.[9]
However, people who do NOT know how to enter Zone 3 could suffer from something called re-esterification, a mechanism by which your body RESTORES fatty acids that have been released into the blood stream.[15-17]
An easy way to prevent this from happening is to enter Zone 3 described below…

ZONE #3: BURN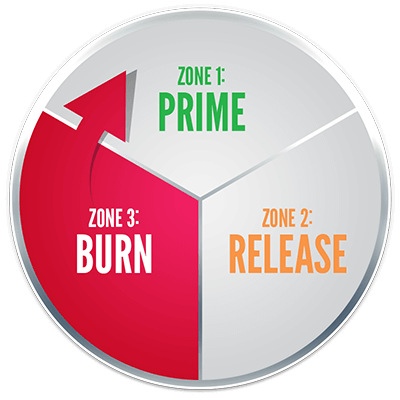 Prevents The Restoring Of Fat Cells For Faster & Easier Weight Loss[15-17]
Zone 3 serves as the foundation to ensure ALL 3 zones work together synergistically.
Although Zones 1 and 2 are customized for people over 40 to make their midsection smaller and tighter … without Zone 3 they could potentially be nothing but a waste of time.
Directly AFTER entering Zone 2, hormones cause the body to release massive amounts of free fatty acids into the blood stream where they need to be used as fuel immediately; if not, they can potentially be re-stored in another area of the body, making it much more difficult to lose stubborn fat.[16-19]
Fortunately, there is a super simple metabolic movement that protects and shields the body from re-storing fatty acids (i.e. re-esterification) by burning them off.[16]
Then there's the forgotten "old school" fat loss technique used by Fitness Models and Professional Bodybuilders to whittle away their last few pounds of stubborn fat, making their skin look tighter in their midsection and love handles look tighter.[15]
Best of all, metabolic zone training ELIMINATES the most common challenges and excuses people have for not losing belly fat!
For those who are too busy or don't have time…
It only takes 12 minutes per day (and you can take the weekends off!)
For those who don't have access to a gym or equipment…
Metabolic Zone Training can be done ANYWHERE… at home in front of a TV or mobile device, during lunch hour, traveling, on vacation, at the gym.

All you need is your bodyweight… that's it.
For those who have struggled in the past doing endless cardio or re-gained lost weight after crash dieting…
Once our private paying clients start using our diet tips and movements that are specifically designed for their age category, their frustration ends.
For those who are going through menopause OR have low testosterone levels…
Remember, the movement patterns used with Metabolic Zone Training are specifically designed to optimize declining hormones of people in their 40s, 50s, and 60s.

* results are not typical and may vary
For those who are beginners or out of shape…
There are modifications for EACH movement so that ANY person over 40, even those with limitations, can use our 12 minute metabolic protocols…
An Innovative 12 Minute Metabolic System & Diet Specifically Designed To Help People In Their 40s, 50s, and 60s Quickly Lose Belly Fat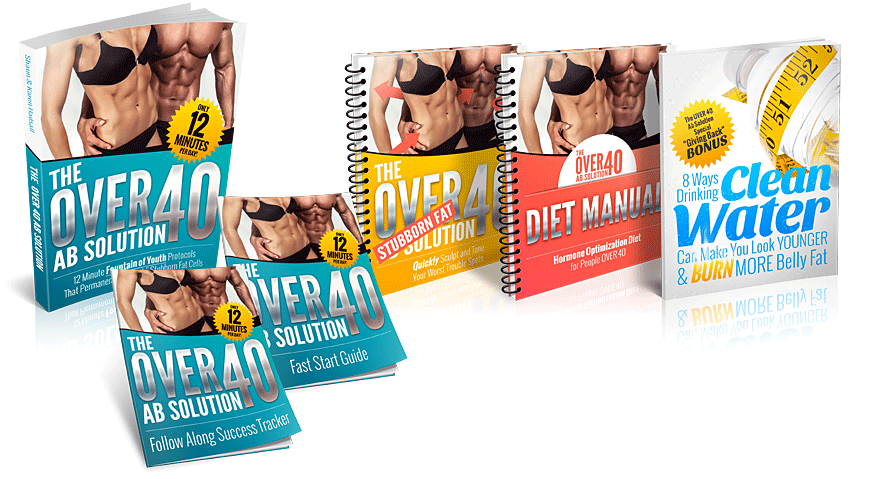 Before I Tell You The Strategy We Used To Get You The Lowest Price Possible...
Here's The Package You'll Get Instant Access To Today PLUS 4 FREE Bonus Gifts…
The OVER 40 Ab Solution Training Manual
Retail Value $21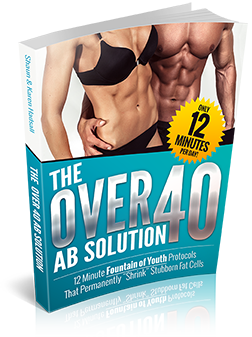 12 Minute Metabolic Protocols Specifically Designed To Optimize The Hormones For People Over 40 Years Old
Custom designed for "ease of use," The OVER 40 Ab Solution Training Manual is your blueprint for maximum hormone optimization and faster fat loss.
Because this approach is both simple AND efficient, I was able to condense the original 110+ pages all the way down to only 50 pages so you'll NEVER feel overwhelmed or confused.
Includes follow-along exercise charts that show you precisely how to enter each OVER 40 Metabolic Zone in just 12 minutes per day…
Simply choose from 20 different exercises… each one specifically designed to engage body parts that will burn maximum calories, increase metabolic rate, and optimize hormones.
NO gym membership, NO equipment… all you need is your bodyweight and 12 minutes. That's it.
OVER 40 Ab Solution Follow-Along Success Tracker
Retail Value $14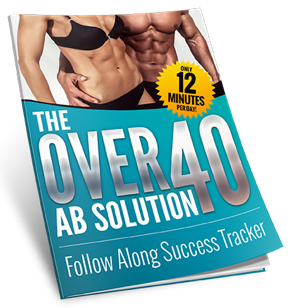 A Research-Proven Way For Tracking Results To Achieve Goals Faster
Although it only takes 12 minutes per day, there is one simple tool that will ensure you do NOT fall off the weight-loss wagon…
A Follow-Along Success Tracker.
This print-off follow-along guide has been the "difference maker" for our private, paying clients because it maps out the diet and metabolic protocols day-by-day so there's zero guesswork.
There are 2 published weight loss studies that show tracking your success properly will ensure you'll stay more consistent…
One study shows people who use a Success Tracker WANT to exercise more.[23]
The 2nd study shows those who use a success tracker ENJOY exercise more![24]
And we're only talking about 12 minutes per day, and you can take the weekend off if you want!
Just go to page 11 after you download this guide and print off a black and white copy for each day of the week to get started.
As an extra-added bonus, for the first 11 pages we'll provide you with detailed diet guidelines, a grocery list, and the exact food combinations you need to use for each meal, along with a diet to follow for each day of the week.
Hundreds of our local and web based clients follow this STEP-BY-STEP guide to ensure their success and now you can too.
Wait! There's More:


Every Person Who Orders Also Gets Instant Access To 4 MORE FREE Gifts To Help Accelerate Their Results
FREE BONUS #1: OVER 40 Ab Solution Fast Start Guide
Retail Value $14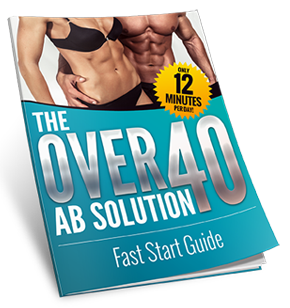 "SPARE All The Details and Cut Right to The Chase"…
Karen and I created the Fast Start Guide because like most people we're busy, busy, busy. We have four children, five grandchildren, and a business to run so we can relate to your busy schedule.
If you have a busy life and are in a hurry to get started as fast as possible, the Fast Start Guide strips the entire OVER 40 Ab Solution Plan down to the bare essentials, so you can learn exactly how each metabolic zone works on your body to achieve faster (and long-term) fat loss.
Just go to page 16 after you download this guide and you'll see how every 12 minute protocol works.
Plan out your first week in as little as 5 minutes, get started, and start optimizing your hormones by this time tomorrow.
Effective. Efficient. NO time wasting.
FREE BONUS #2: The OVER 40 STUBBORN FAT Solution
A 7 Minute Protocol That Increases Blood Flow To Trouble Spot Fat[11]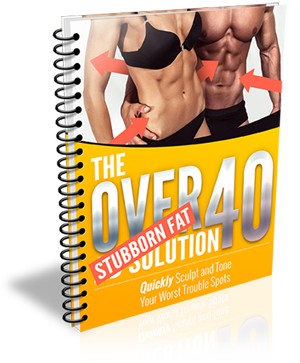 Retail Value $21
Scientific research from the American Journal of Physiology Endocrinology and Metabolism[11] shows that when you increase blood flow near stubborn fat areas of the body, you can increase lipolysis (fat loss).
Introducing the OVER 40 STUBBORN FAT SOLUTION:
The EXACT 7 minute blueprint to follow in order to increase blood flow to problem areas—helping increase weight loss from stubborn body parts.[11]
Just pick the body part you want to target and follow the strategic Over 40 movements step by step. It's that simple and it takes only 7 minutes.
Anyone who picks up The OVER 40 Ab Solution today, will get this guide 100% FREE.
This brand new innovative special report has a real value of $21 and right now it's yours for the taking.
FREE BONUS #3: The OVER 40 Ab Solution's Hormone Optimization Diet Manual
Retail Value $8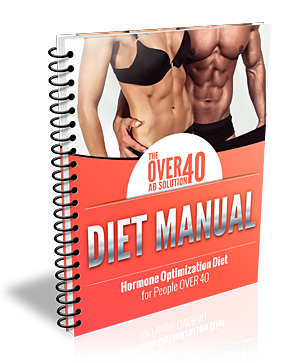 How to Eat for the FASTEST Fat Loss
A Complete Nutrition Plan for people over 40 to quickly lose belly fat…
Includes a Grocery List along with follow-along daily food logs to ensure you never fall off track
Discover proper food timing, combinations, and portion control guidelines necessary to optimize hormones
"19 Diet Habits Optimized for People OVER 40"...
Loaded with nutrition tips that are specifically designed to create synergy between your diet and your 12 minute metabolic protocols, this bonus guide has everything you need to set up your diet and nutrition plan…
A complete guide that has been scientifically shown to help you burn fat faster and live longer using Intermittent Fasting[21,22] for people over 40…
The ONE fruit that helps improve insulin sensitivity for faster fat loss…[25]
Cheat day rituals for eating sweet treats with ZERO guilt
A unique fat-burning elixir recipe to pour on your salads and veggies every day that helps stabilize blood sugar[26]
A TINY fruit that has been shown in multiple studies to reduce inflammation and joint pain[27]
And much, MUCH more…
Here's the BEST part of the
OVER 40 Ab Solution...
Right Now You Can Use This System To Help Us Provide Clean, Safe Water To Needy Children!
FREE BONUS #4: Special "Giving Back" Bonus:
Retail Value: "Priceless"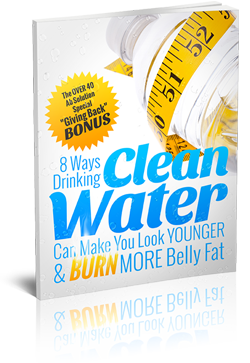 "8 Evidence-Based Ways Drinking Clean Water Can Improve Your Health" [Water References 28-53]
Water. We all take it for granted. And believe it or not, drinking adequate amounts of clean water will help people lose more weight water is added into your diet the RIGHT way.[28-53]
In one study, people who drank water at the RIGHT time actually lost 44% MORE weight than those who didn't![53]
And here's the BEST part: For every person who grabs their copy of the OVER 40 Ab Solution we'll donate a small proceed to provide fresh, clean, lifesaving water to a child in need for 90 days!…
Thanks to all the people who took action and grabbed a copy of The OVER 40 Ab Solution in 2016 and 2017, we were able to donate $142,656 to install fresh water wells to help thousands of people in Nicaragua, India, and Honduras!
We're on a MISSION, and we call it "buy one, give one."
You'll learn all the details about our life-changing mission inside this "Giving Back Bonus" guide, along with 37 scientifically-validated tips[28-53] to help boost metabolism for greater fat loss.
Now you can join the cause helping us save lives, while transforming your body by grabbing your discounted copy of The OVER 40 Ab Solution.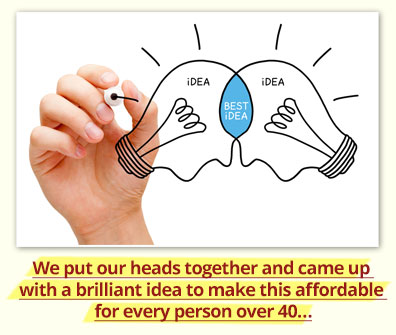 Grab your calculator and do the simple math… you'll quickly see the retail value of The OVER 40 Ab Solution is well over $70.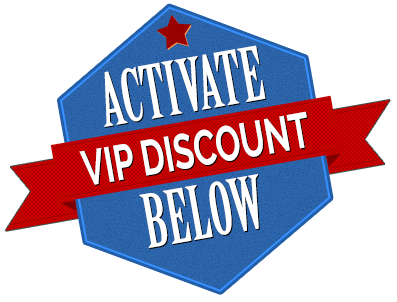 Prior to 2016 this information had been reserved exclusively for our private-paying clients…
Then there's our web-based premium coaching model that costs $197 per month, which is currently fully booked.
And since our typical client is required to stay with us for at LEAST 3 months, this can add up to a lot of money REALLY quick.
Fortunately, thanks to technology and the convenience of digital downloads, we can pass along a substantial discount to YOU, giving you a 50% discount on the entire system.