It could just be be the biggest exercise breakthrough EVER discovered for people in their 40s, 50s, and 60s.
However, very few people even know of its existence… yet.
Even the world's most renowned fitness experts and personal trainers have no idea it exists.
While most people over 40 years old are slaving away following the naïve advice of young personal trainers and fitness professionals who know NOTHING about how to train older bodies....
There is a secret 12 minute per day "metabolic trick" uncovered below  that will help even the most frustrated men and women over 40 SEE their belly get flatter and their trouble spots get tighter in a relatively short period of time.
It's NOT interval training… it's NOT another 60-90 minute knee jarring DVD workout designed for people in their 20s and 30s… it's NOT some new "hyped" up exercise gadget, and it's NOT another "magic" pill.
And it doesn't require ANY fancy equipment or a gym membership.
If you're still not convinced just ask my beautiful wife Karen… she's been through it ALL…
This Real Life Story Makes Me Cry Every Time I Write About It...
It all started when I met my wife Karen in 2006.
Even though we were just friends at the time, we were both so passionate about helping others transform their bodies and lives that we teamed up and opened a personal training studio in Ann Arbor, Michigan.
Within 12 months we were the 8th most successful franchise in the world. We fell in love. Both of us were lean, healthy, and in great shape. Life was good.
Then it happened...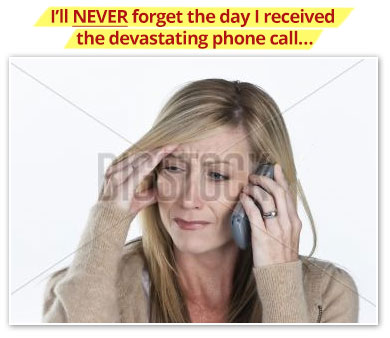 The phone rang after Karen's doctor's appointment.
"Honey!" She screeched at the top of her lungs. "I have cancer!"
From that day on EVERYTHING changed.
Her ovaries were SEVERELY damaged. Harmful chemo and radiation treatments FORCED her into early Menopause.
It was truly the most difficult and emotional time of our lives because her life was in jeopardy!
Even though we were lucky enough to catch her cancer soon enough to save her… after 6 weeks of radiation and chemo treatments her metabolism was destroyed.
And no matter HOW hard Karen tried to lose belly fat afterwards, NOTHING changed. Was it too much stress? Was it too much exercise? Was it the chemo and radiation? Was it bad genes? I don't know.
But the one thing I DO know for SURE is that more exercise didn't help… it only made matters WORSE.
She maintained a healthy diet. She tried cutting carbs and calories. She tried doing LONGER cardio sessions. She even resorted to using hormones…
Then one day she finally exploded.
I remember it like it was yesterday... we were driving home from dinner one night after a few glasses of wine when Karen lost it…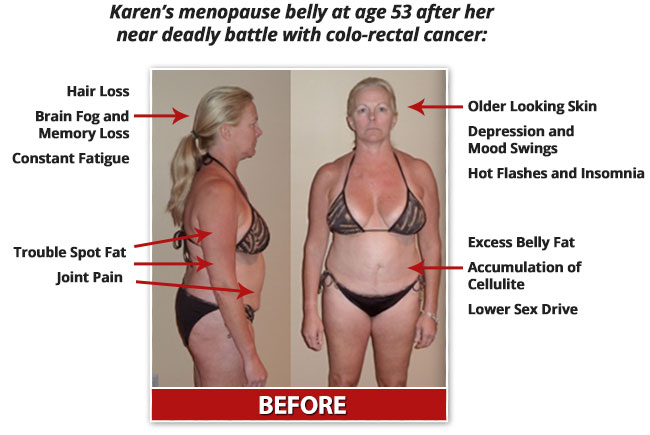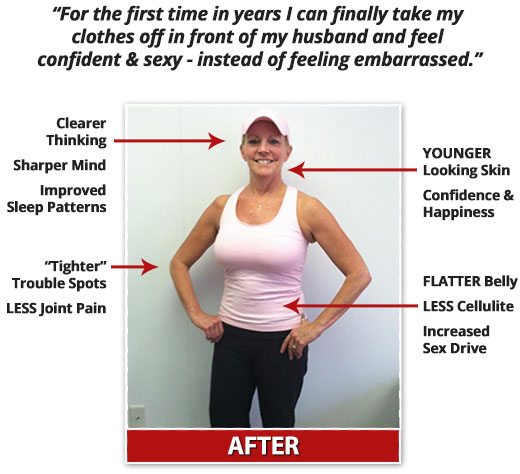 "I'm so sick of working my butt off, and not getting any results! I feel so fat and bloated every morning when I wake up and you'll never understand because you're a guy—you have it so much easier than we do!"
She blurted out as the tears came rolling down her eyes.
And she was RIGHT. Guys DO have it easier than women, but once we hit 35 years old we have our own hormonal challenges… however… there is long term solution for BOTH men and women as you'll soon discover below.
From that day forward I made a commitment to do WHATEVER it takes to make sure she NEVER felt this way again… so I went on a quest to level the playing field and make her body respond as easily as young men in their 20s and 30s.
And that's when I discovered the MISSING LINK for people in their 40s, 50s, and 60s to lose weight… more details below.
So immediately after my discovery, I put this12 minute per day protocol to the test on Karen's body.

Fast forward 10 weeks later...
Her Confidence SOARED Because She Lost Weight
and Felt Younger.
If you're a man or women who is in their 40s 50s, or 60s, keep reading because YOU can use this 12 minute per day protocol to experience the SAME results as my wife Karen…

The Weight Loss Solution Specifically Designed for Frustrated Men and Women Over 40 Who Have Tried EVERYTHING To Reduce Stubborn Fat—But Still Can't Seem to Get a Flatter Belly...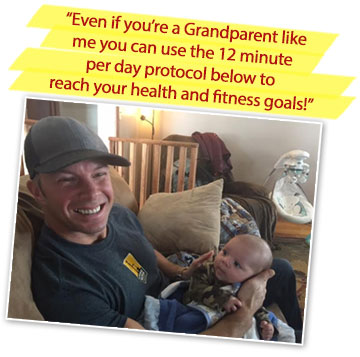 I'm Shaun Hadsall, a proud Grandfather, Best Selling Author, and Stubborn Fat Expert who has helped over 106,000 people across the globe learn the REAL truth about losing stubborn fat after turning 40 years old.
Way back in when I was in my twenties, I used "regular" exercise and interval training to gain six pack abs for the first time in my life.
I went on to place 1st Runner Up Grand Champion in the world's largest body transformation contest called, Body-for-LIFE™ with over 122,000 contestants.
From that day forward…
I Was Convinced Interval Training Was The
Answer But I Was Actually DEAD WRONG...
When I was younger I was convinced that the answer to losing stubborn fat was Interval Training (also known as HIIT—High Intensity Interval Training) because it worked it worked so well on my body…
However, after I turned 40 and met Karen I actually discovered that I was DEAD WRONG.
Although interval training works is very effective for people in their 20s and 30s…
After privately working with Karen and hundreds of other people over 40 I discovered it's actually one of the ROOT causes for weight loss plateaus for people in their 40s, 50s, and 60s.
And as you can see from my pictures below, I've used this 12 minute per day metabolic system to KEEP my six pack abs year after year after year.
I'm not sharing this with you to impress you, but to impress UPON you it works for most people over 40 who work hard.
AFTER Discovering Metabolic Zone Training™

Now you can see why I have a deep passion for giving you direct access to the same 12 minute per day solution I've used to maintain my 6 pack abs for the last 7 YEARS.
Bottom Line:
My wife Karen is 56… and I'm 45! If we can do it in just 12 minutes per day, so can YOU!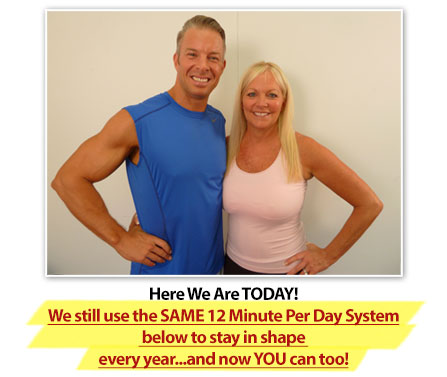 FORGET about using the LONG, BORING marathon cardio workouts you see everybody at the gym using (notice how MOST of them are STILL overweight?)…
INSTEAD all you have to do is enter the 3 Zones below and you can lose weight FASTER than all the cardio junkies you know
FORGET about cutting carbs OR following some crash diet that will only make you FEEL MISERABLE)…
INSTEAD just eat your favorite carbs AFTER the OVER 40 metabolic trick below. You'll be able to eat LOTS of your favorite carbs without SUFFERING using some strict, complicated diet.
FORGET about trying to kill yourself trying to follow some INSANE DVD workout....
INSTEAD all you need to do is follow the timesaving solution below....
The Brand New Zone Training System for Men and Women in Their 40s, 50s, and 60s that Can Help You Lose Weight In 12 Minutes Per Day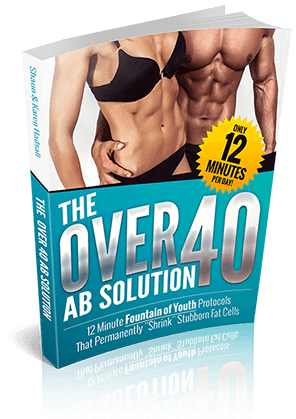 The OVER 40 Ab Solution is so simple to follow that many people in their 40s, 50s, and 60s can use it....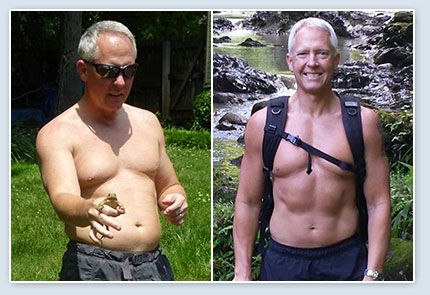 "As a doctor, I lead a very busy life so the 12 minute routines are easy to fit into my schedule."
"I'm a doctor and have recommended this program to a number of my patients who are struggling with weight loss because I know first hand just how well it really works."
—Eric Nicely
Doctor of Urology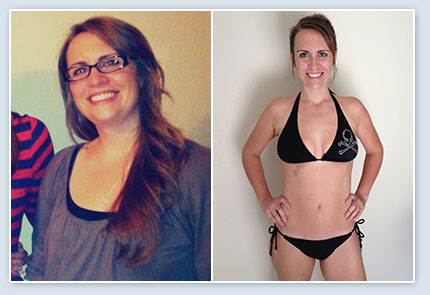 "This has officially become my new lifestyle and I love it."
"I finally understand what I need to do to keep the weight off for good. This plan is one of the easiest, most informative and rewarding weight loss plans out there. This has officially become my new lifestyle and I love it!"
—Alissa Roark
Merced, CA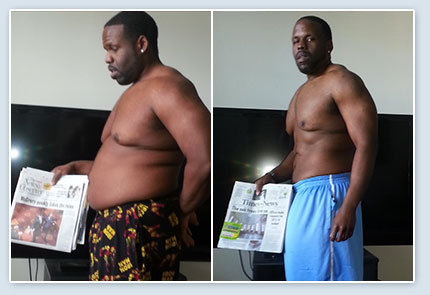 "I simply followed the advice you provided & the results happened automatically. I had to work at it, but it was worth it. Thank you!"
—Lamont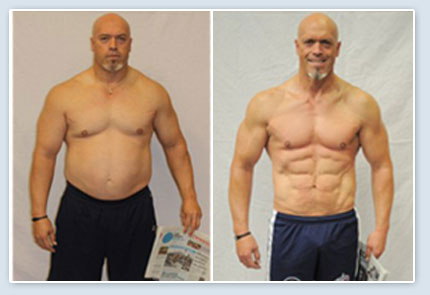 "I'm 55 years old and I'm a total believer! My wife's results were fantastic too!"
"Thank you so much for your Over 40 Ab Solution program. I just wanted to send you over my before and after pictures of the body transformation challenge I entered. As you can see, I had tremendous results.
I'm 55 years old and I'm a total believer! My wife's results were fantastic too so now the whole family are huge followers of your program as well. Thank you so much for all you do for people like me and my family."
—Stanton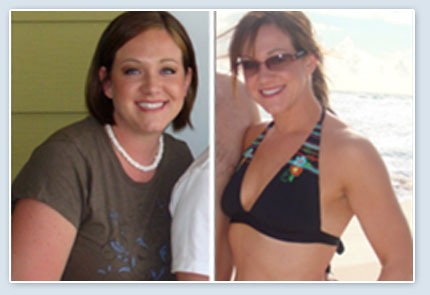 "After being stuck at the same weight for over a year, my confidence is soaring."
"Everything is laid out so there's no guesswork. The workouts are quick so I now have more time for my family and myself. Following this plan makes me a better wife, a better mom, and a better person. It's so easy to adhere to I'll never stop using this way of eating and exercising."
—Colleen Coppersmith
Novi, MI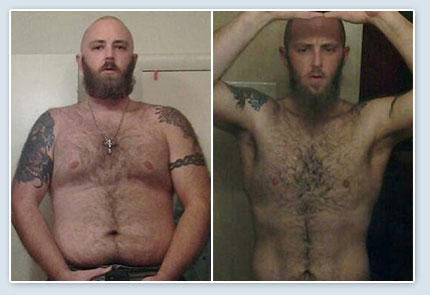 "Jordan lost more weight in ONE week than ever before"…
"I lost more weight in one week than ever before, which made me feel incredible. This is not a quick fix, but it will change your life!"
—Jordan Dietrick, 40
Fountain Valley, CA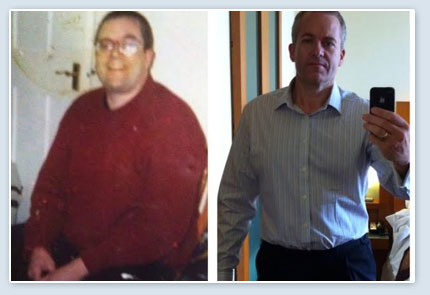 "I tried your 12 minute routines and finally broke my plateau."
"I have spent years trying to achieve my goal weight. I managed to lose some initial weight, but then I hit a plateau. I came across your program, but was wary of paying out cash because I was worried it was just another Internet scam. Boy, was I wrong! I tried your 12 minute routines and finally broke my plateau. Your system has changed the way I view and manage my food intake and exercise. I believe it will be a change I shall embrace for the rest of my life."
—Chris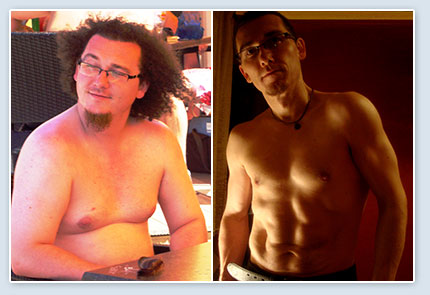 "I managed to lose 80 pounds, fight off hypertension, and get into the best shape of my life."
"One third of me is gone and the other two thirds left is a better me... and I'm growing stronger every day! A huge thanks for your guidance. It's not just about the workouts and the health issues solved — it's about my whole mindset. Everybody wants to know my secret."
—Witek Kulczycki
Gliwice, Poland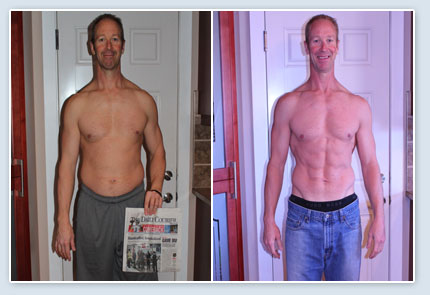 "I'm proud of my results for my age. Thanks for your advice. It works!"
"I used your exercise and nutrition advice to help me get lean for a Body Transformation contest. I purchased your information and put it into action. I'm proud of my results for my age so I wanted to share them with you. Thanks for your advice. It works!"
—Russ Bischoff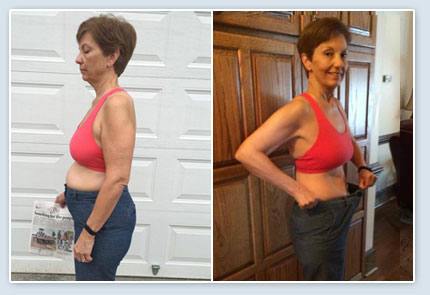 "Within the first week I had the hang of it and it was really simple!"
"My bad cholesterol has come down over 22 points. I have more energy and my body is a lot less achy! It's also inspired me to eat healthy. I feel like I can continue to live a healthier lifestyle and keep the weight off!"
—Teresa Lynn Taylor Sutton, 58
Kinston, NC
It's FASTER, it's EASIER, it's HEALTHIER, AND it's MORE FUN!…
According to Gallup's annual Health and Healthcare survey even though 51% of adults WANT to lose weight, barely HALF as many (only 25%) say they are serious about working toward that goal.
This means only half the people we share these secrets with actually APPLY it. It's been this way for the last 13 years, which is why Karen and I realize we simply can't help EVERY person.
So even though The OVER 40 Ab Solution works for even the MOST FRUSTRATED men and women who are over 40, unfortunately it's NOT for everyone.
HOWEVER, if you're one of the 25% who is serious and TRULY WANTS TO "SEE" your body change over time, we've negotiated a special discount to get you the lowest price possible with our printer.
Stop wishing and hoping your body looked different every day when you wake up and look in the mirror naked—and start using a method that's specifically designed for your age.
Whether you only have 10 to 20 pounds to lose…or you have 30, 40, even 50+ pounds to lose… as long as you're between the ages of 35 and 65 this program can work for you—if you're one of the 25% who apply yourself and USE it.
Before I Tell You The Sneaky Trick We Used To Get You The Lowest Price Possible...
Here's The Package We'll Be Shipping You Today PLUS 4 FREE Bonus Gifts…
The OVER 40 Ab Solution Training Manual
Retail Value $47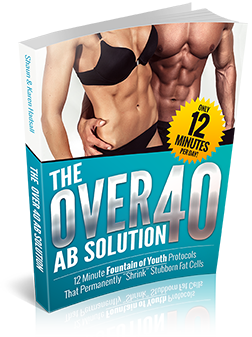 Custom designed for "ease of use", The OVER 40 Ab Solution Training Manual is your blueprint for your fastest fat loss.
Because this approach is both simple AND efficient, I was able to condense the original 110+ pages all the way down to only 50 pages so you'll NEVER feel overwhelmed or confused.
Includes follow along exercise charts that show you precisely how to enter each OVER 40 Weight Loss Zone in just 12 minutes per day…
Simply choose from 20 different exercises… each one specifically designed to engage body parts that you may not have used in a long time.
NO gym membership, NO equipment… all you need is your bodyweight and 12 minutes per day to SEE your belly get FLATTER.
OVER 40 Ab Solution Follow Along Success Tracker
Retail Value $27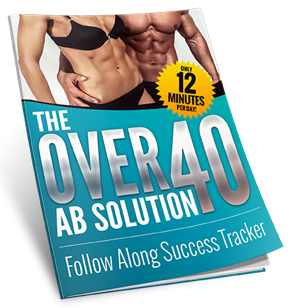 An Evidence Based Way To Achieve Your Belly Flattening Goals Faster Than EVER Before
Although it only takes 12 minutes per day there is one simple tool that will ensure you NEVER fall off track…
A Follow Along Success Tracker.
This follow along guide has been the "difference maker" for our private, paying clients because you can take it with you anywhere you go.
Why? Because multiple weight loss studies show that tracking your success will KEEP you in the game…
You'll WANT to exercise more.[38]... and c'mon, we're only talking about 12 minute per day!
You'll ENJOY exercise more![39]
You'll avoid weight loss plateaus.
You'll lose more weight (and KEEP it off).
You'll achieve your weight loss goals FASTER and EASIER than ever before.
As an extra-added bonus, you'll even get food recommendations and diet tricks for every day of the week.
Wait! There's More:


When You Order Today You Also Get Instant Access
To 4 MORE Weight Loss Gifts At NO Cost
FREE BONUS #1: OVER 40 Ab Solution Fast Start Guide
Retail Value $37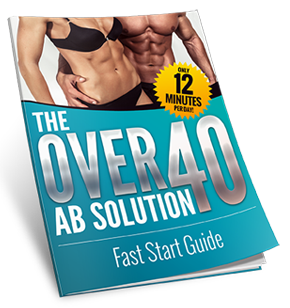 "SPARE All The Details and Cut Right to The Chase"…
Karen and I created the fast start guide because we're just like you. We're busy. We have four children, two grandchildren, and a business to run so we can relate to your busy schedule.
If you have a busy life and are in a hurry to get started as fast as possible, the Fast Start Guide strips out the entire OVER 40 Ab Solution Plan down to the bare essentials so you can start today if you want to.
This guide provides every 12 minute exercise chart you need to follow at your finger tips so you can start feeling the effects quickly.
Effective. Efficient. NO time wasting.
FREE BONUS #2: The OVER 40 STUBBORN FAT Solution
Fortunately, there is scientific study[2], which shows how you can "naturally" EXTRACT stubborn fat cells directly from your trouble spots in as little as 7 minutes—WITHOUT creams or expensive surgery.
Retail Value $47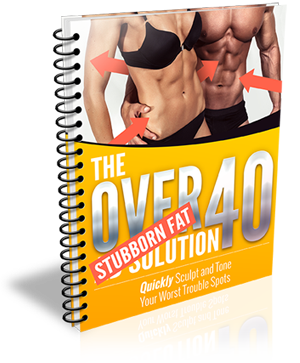 Introducing the OVER 40 STUBBORN FAT SOLUTION:
Just pick the body part you want to target, follow the strategic Over 40 movements step by step and you'll see your trouble spots get tighter and firmer week by week.
Anyone who picks up the newly released OVER 40 Ab Solution today, will get this special weight loss guide 100% FREE.
This brand new innovative special report has a real value of $47 and right now it's yours for the taking.
Here's the BEST part of the OVER 40 Ab Solution...
This System Helps SAVE LIVES!
FREE BONUS #4: Special "Giving Back" Bonus:
"8 Clever Ways Drinking Clean Water Can Make You "Look" Younger And Burn More Belly Fat"
Water. We all take it for granted. And believe it or not, it can actually be your MOST important insurance policy to ensure you'll lose weight FASTER, and more efficiently when you add water to your diet the RIGHT way.
And here's the BEST part: For every person who grabs their copy of the OVER 40 Ab Solution we'll donate a small proceed to provide fresh, clean, life saving water to a child in need for 90 days!…
We're on a MISSION and we call it "buy one, give one".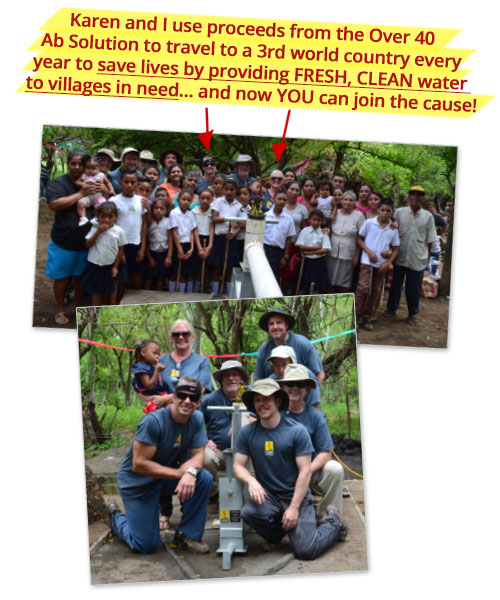 WHY? Because it's a crisis and epidemic. The numbers tell the tale. There are 663 MILLION people who do not have access to drinking water all over the world… and over 1.5 million deaths happen annually across the world because of infectious disease from contaminated water.
Together, we can get healthier AND save lives. Every year we travel to a 3rd world country to volunteer our time and financial resources to install a fresh water well for a needy village…. we've personally donated over $13,944 donated since July of 2014 and now were raising the bar.
For EVERY person who becomes part of the Over 40 Ab Solution community, we'll donate a small proceed to help save the lives of thousands of needy children across the globe who do NOT currently have access to clean drinking water.
You'll learn all the details about our life changing mission inside this "Giving Back Bonus" guide, along with 37 scientifically validated tips[1-37] that will help you…
Lose MORE Belly Fat [6 studies!]…
Relieve Constipation and Reduce Recurring Kidney Stone…
Maintain Youthful and Healthy Looking Skin…
Increase Energy and Improve Performance…

Eliminate "Belly Bloat", CRUSH Cravings, and REDUCE Joint Pain…
Now you can join the cause to help save lives AND transform your body by grabbing your discounted copy of The OVER 40 Ab Solution before we run out of inventory and the price goes UP.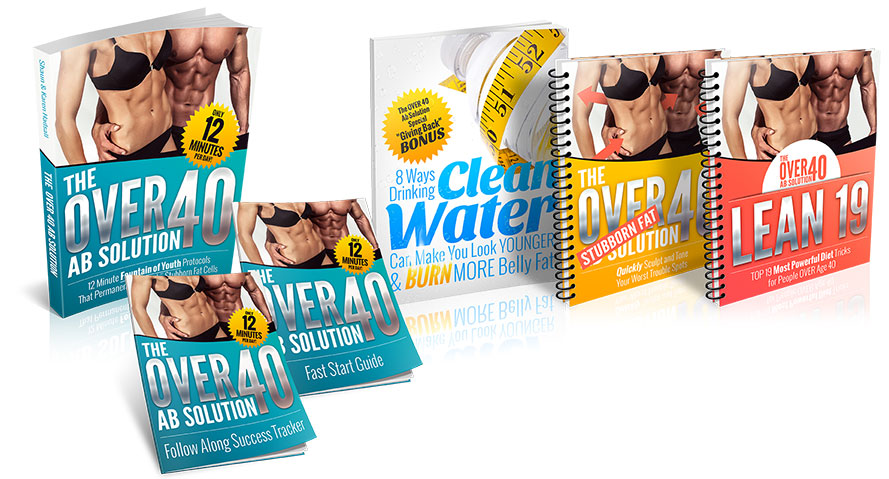 We put our heads together and came up with a brilliant idea to make this affordable for every person over 40…
Grab your calculator and do the simple math… you'll quickly see the retail value of The OVER 40 Ab Solution is well over $200.
And quite frankly, these weight loss trade secrets specifically designed for people over 40 years old are worth a fortune simply because Metabolic Zone Training™ has NEVER been seen or used by the general public.
Until now, it's been reserved exclusively for our private paying clients….
Of course, these folks live close by so they are MORE than willing to pay us $500 just to sit down in our office for a private consultation here in Michigan…
Then there's our web-based premium coaching model that costs $197 per month, which is currently fully booked.
And since our typical client is required to stay with us for at LEAST 6 months, this can add up to over a thousand bucks REALLY quick.
So instead of paying all that money to us, or somebody else, we put our heads together and came up with a simple (yet brilliant) idea to get the price as LOW as possible.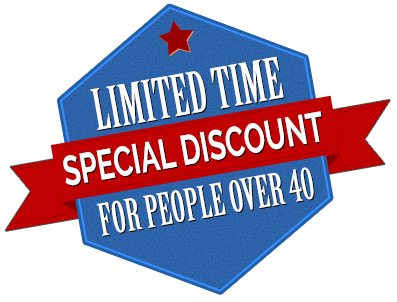 We pre-ordered 30,000 copies of The OVER 40 Ab Solution, which allowed us to negotiate a MASSIVE discount from our printer simply because we ordered in "bulk".
And that's why were so excited! We can pass this discount along to YOU to get a ridiculously low price on the entire system.
However, we can only offer this insanely low discounted price for a very limited time. Once supplies get low, we'll have to switch over to printing "on demand", which will raise the price back up to $97 just to cover our costs.
Check Below the Coupon Below to See if Your 70% OFF
Special Discount is Still Available...
WAIT! Confirming Your 70% Off Coupon
is Still Available...
(Applying Now)

Congratulations!
Your 70% OFF Coupon Has Just Been Applied…
Today's Special Price:
$89
$29
Discount Expires In:
00:00:00
SORRY, your 70% OFF coupon has Expired
You can still order at the regular price of $89
Discount Has Expired!
Click The "Add To Cart" Button To Receive Your Limited-Time Discount of ONLY $29